Effects of using Tesla Plates and fields of application
By constant using of Tesla Purple plates and discs you achieve the following:
increase of physical energy
increase of mental energy
improvement of mental activity
improvement of sleep quality
slowing down aging process
improvement of meditation quality
reduction of stress
increased intuition
creating the sense of bliss and more…
Tesla Purple plate is used hanging in space (hung on a chandelier), protecting home from the effects of negative electromagnetic radiation. Also, the field of application of Tesla plate is a chair (users sit on it), for pain in your back, and large number of users used it placed under the pillow for better sleep.
Many users experiment with Tesla plates and discs, so it is practically impossible to list all fields of application, and time will show what benefits this generator of cosmic energy can bring to you.
The Tesla plates may be carried along when men and women head out to go to work or school for the day. The smaller Tesla plates can easily fit inside purses or handbags, and should stay put throughout the day. In fact, the plates might even be placed inside the car on long road trips so that drivers an passengers can both reap the benefits.
LEG Tesla plates are usually worn in jeans pocket, shirt pocket… Considering that some users asked to wear it around their neck we created a small 3 mm hole and with purple ribbon fulfilled their request. Users often place LEG Tesla Plate underneath a glass of water, plate with food or cup of tea to energize food or drinks and remove harmful vibrations in them. Tesla Purple Disc is worn around the neck in most cases, although users often place it on acupunctural points on the body (painful areas) and in that way achieve the effect of Chinese traditional medicine.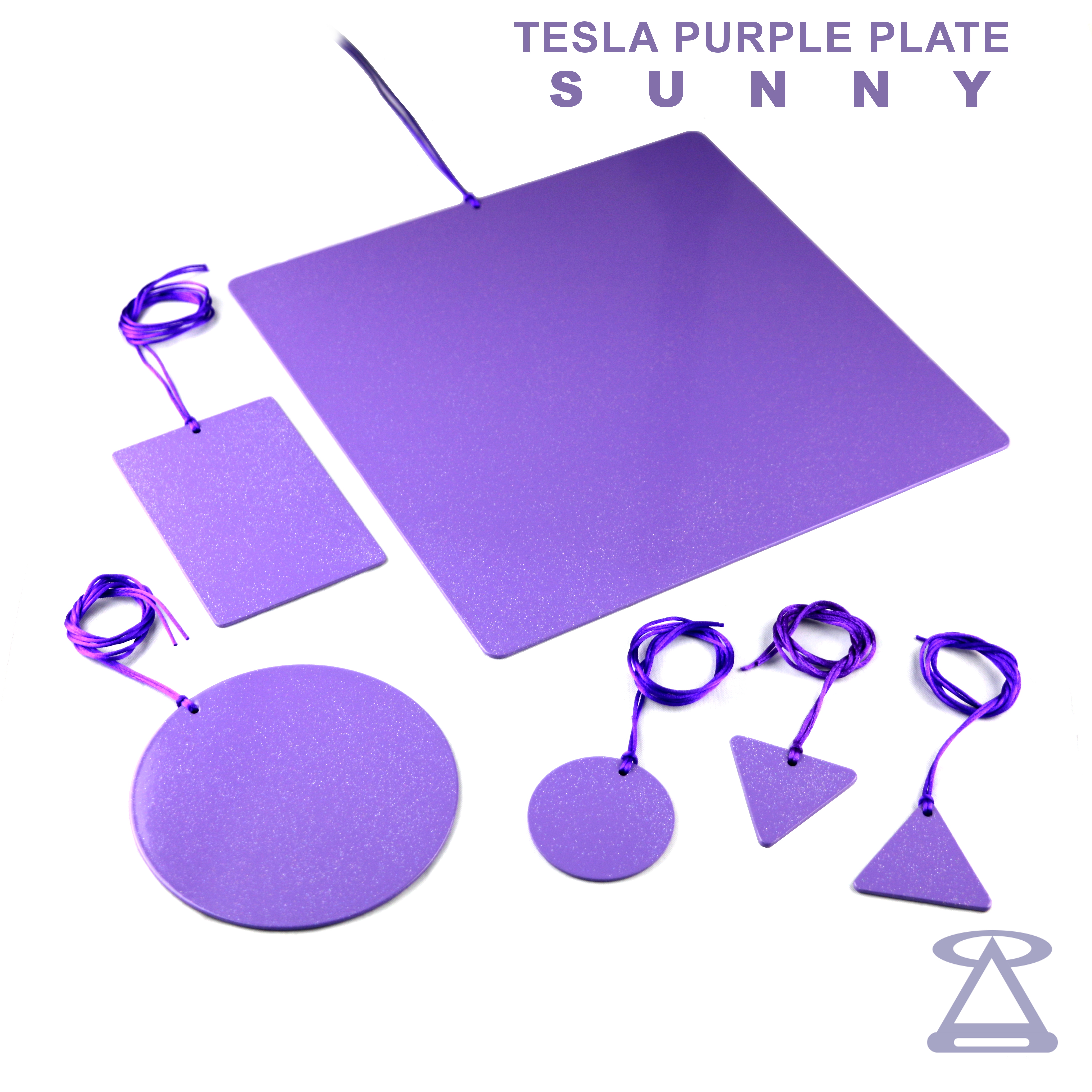 People might also choose to use the device in ways that could be considered outside the box. It can be placed underneath sick houseplants, for example, in an attempt to coax them back to life. Plants can sometimes be fickle with regards to the sunlight and water they need to thrive, and sometimes they need some extra assistance.
Families might even choose to place a plate underneath their grocery bags for 15 minutes or so in order to reduce the life force to become more prominent. 15 minutes should suffice, but some people might choose to go a little longer. 30 to 60 minutes will also be a perfectly amenable time-frame.
Disc owners will of course want to store them in a reasonably secure place when they are not being used. Closets and other storage bins are good choices. Discs should always be kept out of overly cold or hot areas so that material does not degrade during certain seasons of the year. Storage containers that are not protected from the harsh rays of the sun should simply not be used.
Owners can also energize crystals by placing them on the Tesla plates for a few hours. This will work with a number of different rocks, but will likely be most effective with granite and quartz. Granite, in fact, is a durable igneous rock that consists of interlocking crystals of various sizes and textures.
The Tesla plates might even be used to assist with pet health. The devices can be placed gently around the pet collar to ensure that the beloved family dog or cat has the best chance of staying healthy going forward. As an alternative, they might also be placed under the food dish of Fido or Lucky for a certain number of hours each day. Energy-line rehabilitation can work for both humans and animals.