User guide – Tesla Purple Plates and Tesla Purple Discs
Tesla Purple Plates and discs help in treat of:
migraine and insomnia
rheumatic diseases
spondylosis and arthrosis
distortion and distension
post-traumatic conditions
contusion, injuries and pains
nausea and vomiting
relieve stress
eliminate exhaustion
improve cell regeneration process
elevate energy levels
protect from electromagnetic radiation and many more…
Forms and dimensions:
Tesla Purple Plates are manufactured in more forms:
Rectangle 6,3 x 9,3 cm SUNNY

Rectangle big

11×7 cm (not sunny)
Disk small 4,5 cm diameter SUNNY
Disk big 10 cm diameter SUNNY
Triangle man or woman: side 4,5 cm SUNNY

Big squared

21×21 cm (not Sunny)
Every product has a small hole (3mm in diameter) and purple wire which is made for easier usage.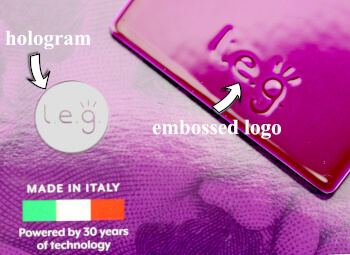 Design:
Tesla Purple Plates and Tesla Purple discs are made from anodized aluminum, which is afterwards electrochemically colored. All the plates aare Made in Italy, are artiginal, handmade and very poweful.
Usage:
Tesla Purple Plate can be used as often as you like – until you feel "strong" enough. Tesla Purple small disk, small rectangle and triangles are usually worn around the neck, and based on our experience – Tesla Purple plates produce best effects when placed on a region where the heart is. When a Tesla Purple Plate is placed on acupunctural points of the body, pain is relieved in very short time. Tesla Purple Plate can be used to remove negative vibrations from food and water by placing them underneath the plates, bottles and glasses. The plants can also be watered using water treated by Tesla Plate, and their growth will be significantly faster. Tesla Purple Plate are not a replacement for classical medical treatments, but a remedy which helps us to maintain high energy levels
Unwanted effects:
Tesla plate and disc do not have any unwanted effects.
Lifetime:
Unlimited.
Package contents:
Each Tesla Purple Plate and Tesla Purple Disc package contains:
user guide
hologram on package amd logo L.E.G. on the plate
a black cord in pure cotton for easier usage